2001 Nails
Company Name: 2001 Nails
Status: Active
State: Florida
Post: 32822-8403
County: Orange
City: Orlando
Address: 2321 South Goldenrod Road
Phone: (407)382-8049
Fax: unknown
Email: unknown
Contact Principal: An Nguyen
Web site: unknown
SIC code: 723100

Industry group:

Personal Services,

Business category:

Beauty shops
Gross Annual Sales (Revenue): Unavailable
Overall: 2001 Nails is a business categorized under beauty shops, which is part of the larger category personal services. 2001 Nails is located at the address 2321 South Goldenrod Road in Orlando, Florida 32822-8403. The Principal is An Nguyen who can be contacted at (407)382-8049.
Description: Nail Salons,
Tags: In summary:
Amazing service, everyone is so friendly, great prices as well.
I HIGHLY recommend this place to Men, Women and Children!!
Very Nice Atmosphere felt welcomed Nice Staff Will Visit Again
Recommended:
Click here to Inform about a mistake
29
Rating:
Location & access map for "2001 Nails"
Video street view near "2001 Nails"
Photo from "2001 Nails"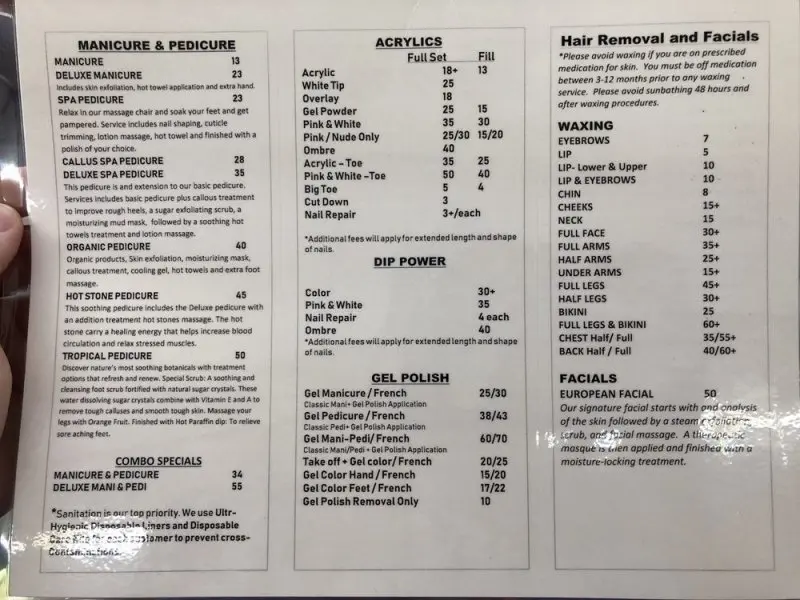 ---
2001 Nails (Personal services)

about:
Review/Comment
Name: M.R.M.C.
Message: Very Nice Atmosphere felt welcomed Nice Staff Will Visit Again.
Name: S.B.
Message: Toni was awesome at her job! The rest of the staff were very friendly too. Go for the $40 pedicure, it was WELL worth it!
Name: M.9.
Message: Not a fancy place but definitely professional couple who know there stuff. There is a woman that works there with black mid length hair who is horrendous at doing pedicures. I will never let her do my feet again, I prefer the other older grayish hair woman instead.
Name: A.
Message: My fiancé & I always go there we love this place for some reason. The staff could be nicer to be honest it been times when they want to close early so they would rush us which is I hate so much. I got pedicure & French gel last time I went there and Michelle done a great job! Thank you! * ask for Michelle when you go there she is the best good *.
Name: N.J.
Message: The very best service. I have been coming here for at least 8 years. Tina and Chris are the shop owners. Eveyrone here is always so nice. Great conversation and they always do an amazing job in everything that they do. Ive had my hands feet and waxing done here. Miss Tina said they have been in this location for 23 years as of 2019. I HIGHLY recommend this place to Men, Women and Children! Dont go to "She nails".. Dont go to "US nails"... Tina and Chris are the right peole for the best job. You wont be dissatisfied!
Name: A.S.
Message: I love the way they do my eyebrows, and how friendly everyone is. I always walk in and come out with a great nails and eyebrows, and of course I always leave with a smile on my face. Their pricing is great, however they need to expand their designs.